How do, haven't posted for a while and I think last time I posted about these too!
I really fancied one of these from last year when I first heard about them and saw the goldtop. These came in 5 colours, but it had to be the goldtop for me! I didn't really think I could justify another guitar! But.....they were a great price - (for a Les Paul), hard to find though as were limited edition....anyway I found myself tracking down a store - which although had pre sold all their alloted stock, had had a couple of people pull out, as Gibson had a flood and these were taking ages to arrive over here, so some folks got pissed off waiting. So I put a deposit on one of their spare ones months ago, but didn't hold out much hope of actually getting one, as they weren't 100% that they ever get their requested stock.
Anyway - I got a call day after boxing day, they'd arrived at the store - had one with my name on and next day it arrives at my house! What a fab Christmas present! - fucking hell this is a proper guitar! - the nicest I've ever played. I'm really blown away by it and am loving playing it. Just been too bloody ill to really go for it, but flu is disssapearing slowly and I'm playing it loads now - I feel pretty lucky to have got hold of this - Its pretty much my dream guitar - Love the feel of it, the sound of the P90s. I can't imagine ever wanting to get rid of this! It's fucking ace!
Here's some pics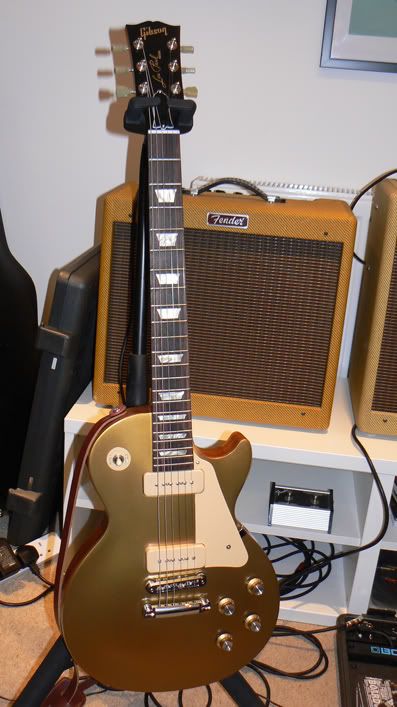 These arrived today ....
And half an hour later....