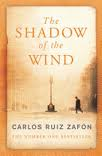 I'm loving this series - I discovered 'Shadow of the Wind' on a shelf, unread, a couple of weeks ago - I can't believe I didn't read it as soon as I bought it a few years ago, because it's fabulous.
'Angels Game' carries on the theme, and there's another one either just published or about to be.
Dark, beautifully written (all the more credible as they're translated from Spanish with nothing lost) Gothic,just wonderful.